Dahab is a tranquil place in South Sinai, Egypt, and a perfect location to find relaxation as well as plenty of adventures. It is situated just a one hour drive from Sharm el Sheikh airport.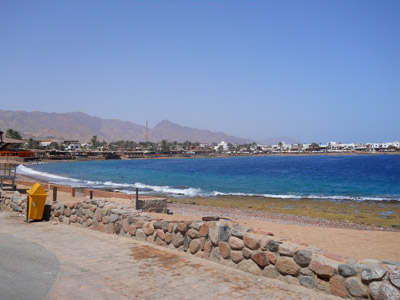 Dahab is a Bedouin town that over the past years slowly developed from a chilled backpackers hang-out into a chilled tourist destination with a mix of Bedouins, Egyptians and foreigners living in a community and calling Dahab their home. In contrast to other Red Sea Resorts like Sharm el Sheikh or Hurghada, Dahab still retains its laid back charm. This is only one of the many reasons why so many people fall in love with this unique place and keep on coming back.
Activities
Diving in Dahab is awesome, but there are also many other activities that are great to combine with diving, to enjoy on a day out of the water, or if you are a non-diver.
Here are just a few options how to spend your time in Dahab. If you are looking for any other activities, just talk to us and we will make sure you will get the most out of your holidays.
Snorkeling
If you are not interested in diving but would like to explore the beauty of the underwater world, you can join us on a snorkeling trip to various sites around Dahab. Spend a day in the sun, relax with a book, snooze in a hammok, just enjoy the view, or some nice conversations. Get your individual snorkeling briefing from our PADI professional, he/ she will explain you the entry and exit points, where to find the most interesting marine life and how to stay safe and protect the fragile underwater world. If requiered you will also get a short introduction into snorkeling techniques.
Wind- and Kite- Surfing
Dahab is famous for its perfect wind conditions and therefore attracts a lot of surfers throughout the year. No matter if you would like to learn how to surf in the confined area of the beautiful natural Dahab Lagoon, or if you are an experienced surfer already....you will for sure enjoy the experience.
We are happy to arrange courses or equipment rental for you with a world class windsurf – and kite station, http://www.harry-nass.com/
Day Trips
South Sinai is an amazingly beautiful peninsula and Dahab is the perfect location to start a day trip into the beautiful desert scenery, or some historical sights.
We can arrange trips to St. Katherine monastery, an UNESCO world heritage site, located at the bottom of the biblical Mount Sinai, where Moses received the ten commandments.
Also Coloured Canyon or White Canyon and the oasis Ain Khudra are located just about a 90 minute car ride from Dahab.