Southern Oasis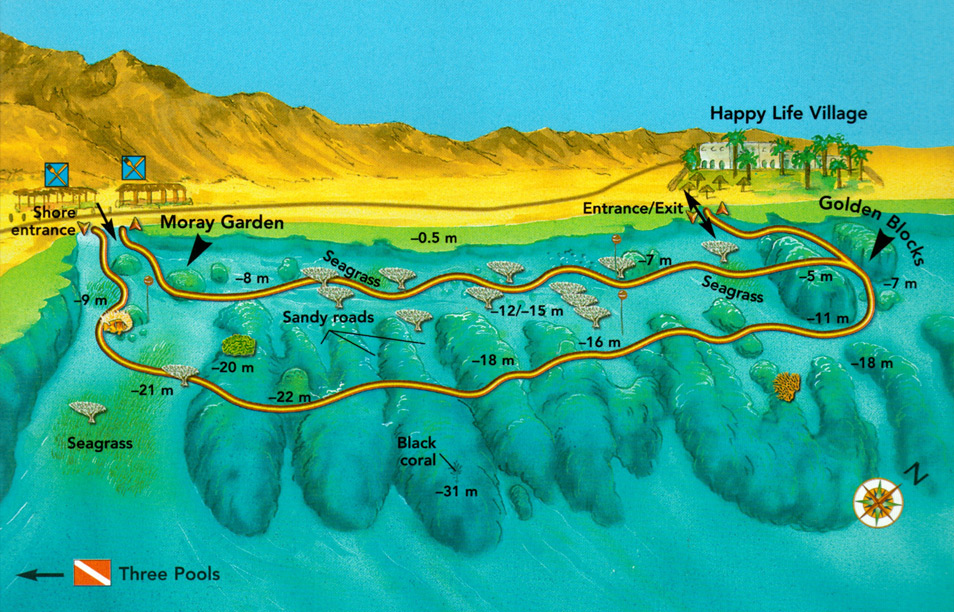 Golden Blocks is a mix between coral gardens and sandy areas with almost all coral species represented. It has a coral slope with three sandy alleys in it. The first one starts at 10m and drops down to 30 - 40m. Here lies Dahab's only real wreck, a paddle boat at 20m. The second slope is like a small canyon with a beautiful little island of corals. At the third slope you will find an impressive gorgonian fan at 22m and beside it is a small cave. Shallower you have sandy areas with the 'Golden Blocks'. These are large coral blocks that go from 10m to the surface and are covered with anthias. Also in the shallower part you have beautiful table corals and small coral blocks where there is always a good chance to find big groupers or colourful nudibranchs. There have also been sightings of manta rays in this area. This site can also be recommended to do drift dives towards Moray Garden.

At Moray Garden seabed falls away reasonably sharply down a sand and coral slope and there are gullies and small canyons which can be followed quickly down to the 30m+ mark. Red Sea bannerfish and coral groupers are prolific here. There are also a number of giant clams with their colourful mantles collecting sunlight for symbiotic algae. About 10 minutes swim to the south of the entry point at around 22m is a coral outcrop covered in glassfish or sweepers.

As you begin to ascend and head back towards the shore there is a never ending abundance of stony coral, including yellow waver and raspberry coral. The usual clownfish (twin band anemone fish) inhabit their anemone homes. Look carefully here as there are some fantastic bright red bubble anemones. The latter part of your dive and safety stops can be completed on the sand and coral encrusted slope with pipefish and flounders. Moray Garden is great place to start your diving holiday before moving onto offshore boat dives or some of the big vertical drop-offs.